Master your business communication
Corporate communication is essential for inform and involve employees but also your customers and partners. Touchify allows you to expand your digital presence and deliver impactful communication media, whether it is a small business or a large company.
---
Enhance your brand image
Brand image is important. The first impression experienced by a visitor when entering your workplace will condition the image he will have of your company.
The use of digital devices allows to inform and guide visitors in an optimal way. Consider all the opportunities to get your messages across and present your offers. It can be a waiting room, elevators or a digital showroom. Touchify allows you to create immersive experiences for impactful communication.
Set up a digital showroom to immerse your visitors in your brand universe and highlight your business and expertise.
Enhance your brand image
Involve your teams
Your internal communication reflects your image with your employees.
They are your first ambassadors.
Effective and transparent communication allows them to become more involved in your business, feeling concerned and considered.
Offer a complete digital experience by multiplying the touchpoints within your company.
Target strategic locations such as meeting rooms or relaxion areas.

Serious games are an innovative way to present your business and ease the integration of new employees.
Involve your teams
Digital solutions for collaborative work
Your employees attach great importance to their professional environment and to the solutions available to help them in their work. Transform your workplaces using touch screens, digital whiteboards and dynamic dashboards to encourage collaborative work and improve the productivity of your teams.
The meeting room is a key place in the company where many working sessions take place. Digital solutions offer powerful tools to collaborate effectively.
Digital solutions for collaborative work
Innovative business presentation
For sales
For sales
Touchify allows you to reduce the recurring tasks of your sales teams to focus all productivity on customer relationships. Deliver interactive presentations that enhance your sales pitch.
For events
For events
Use digital devices during your events to offer an immersive digital experience. Increase your visibility and increase your reception capacity to attract more visitors.
Why Touchify?
Touchify is a SaaS plateform that allows Marketing and Communication teams to produce interactive content, control their distribution and collect usage data. Touchify is an end-to-end solution for controlled and impactful communication.
Learn more
---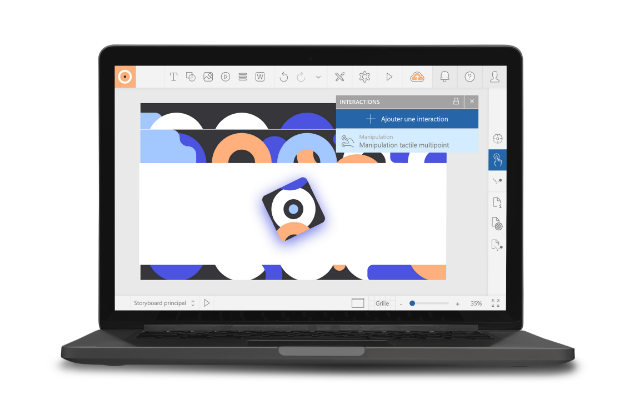 Compatibility
The Touchify Player application is available on Windows, Linux, MacOS, iPadOS and Android.
Easy to deploy
Easily publish your updates. Content is immediatly available on your devices.
Usage data
Get statistics feedback on the performance of your campaigns.
Secure kiosk
Get statistics feedback on the performance of your campaigns.