Provide a successful customer experience with interactive digital signage
Customer expectations meet new standards, expecting fast and personalized information. Phygital solutions make it possible to meet these expectations. Find out how digital signage solutions allows to better communicate with the customers and offer them unique and rewarding hospitality experience.
---
The challenges of hotels digital transformation
Customer expectations
Customer expectations
When a customer enters your hotel, you must do everything possible to provide a successful experience. Whatever the guest (tourism or business), the customer wants a smooth and enjoyable experience. He wishes to be informed and to benefit from rapid and relevant information.
of guests believe customer experience is more important than price.
Improving services
Improving services
Digital signage displays help you become more efficient. They make it possible to free the employees from some tasks or save time to update the content, inform customers, improve access to services and maximize occupancy rates. Consumers want to optimize their time when making a reservation or checking in.
of guests want to save time with digital devices and services.
Digital solutions to optimize the customer journey
---
Digital reception and registration
Located at the entrance to the hotel, the reception terminal is the first point of contact with the customer. It makes it possible to welcome, inform and guide the visitor.
Check-in and check-out can be fully digitized to save your guests time during peak traffic and optimize staff organization.
Digital reception and registration
Connected hotel room
Set up touch pads in hotel rooms to communicate with your customers, to promote the hotel services and to distribute promotional offers. It is also an efficient way for the customer to access services, make a reservation or order a meal. This generates an increase in revenue from internal hotel services.
Connected hotel room
Multiply touchpoints
Support the user throughout their customer journey. Identify strategic points where the user will need to be informed or simply time to devote: an elevator, a smoking room or a waiting room for example. Many locations are suitable for digital signage solutions. You can also broadcast useful information such as news feeds, weather in real time, social wall...
Multiply touchpoints
Promote your territory
Advise your guests during their travel: tourist activities, restaurants, museums, event agenda... Hotel is the best place to offer them new experiences on a digital display screen so that they have a pleasant stay.
Promote your territory
Highlight hotel services
Stimulate the attendance of your bar or restaurant by highlighting the offer in terms of breakfasts, cocktails, menus... Communicate about the services such as the spa, the pool, the offers related to wellness...
Highlight hotel services
Why Touchify?
Touchify is a SaaS plateform that allows Marketing and Communication teams to produce interactive content, control their distribution and collect usage data. Touchify is an end-to-end solution for controlled and impactful communication.
Learn more
---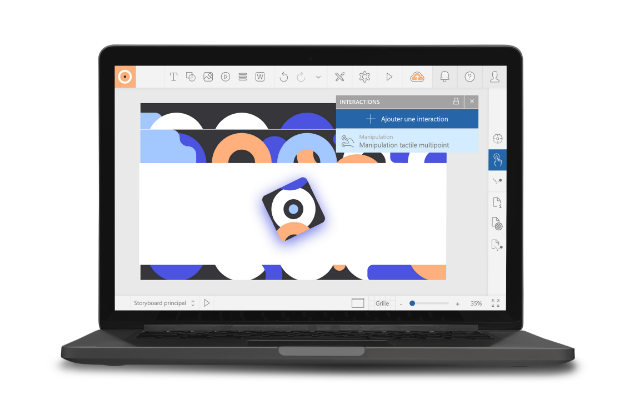 Multilingual
Simplified multilingual management to allow you to display your content in several languages.
Secure kiosk
Secure your digital devices, lock access to the system and application settings.
Easy to deploy
Easily publish your updates. Content is immediatly available on your devices.
Usage data
Get statistics feedback on the performance of your campaigns.