You will finally shine;-)
Gone are the traditional signage that go unnoticed in the midst of a growing information flow. Thanks to digital signage, your messages capture the attention and boost the impact of your communications.
---
Paper display
3%
power of attraction
Digital signage
x4
power of attraction
The simplicity of a full SaaS signage software
Touchify is an all-in-one digital signage software designed to manage all your playlists whatever your needs, your hardware or your market.
---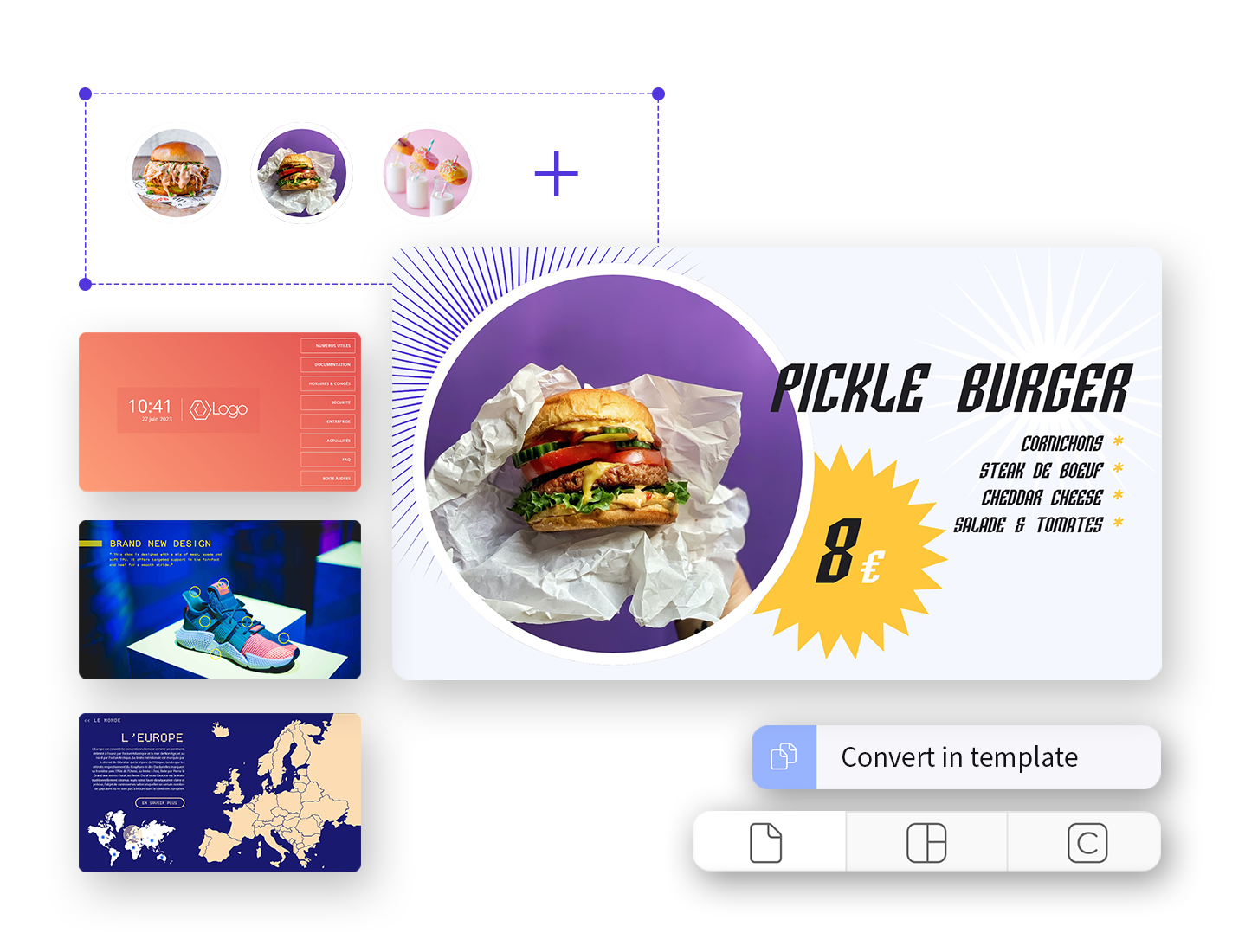 Import your media and create your playlists
Images, videos, documents... Import your content into our web app, from any internet-connected device, and create a streaming playlists.
For advanced uses, our creative studio can enrich your medias in a few clicks or create new medias from scratch.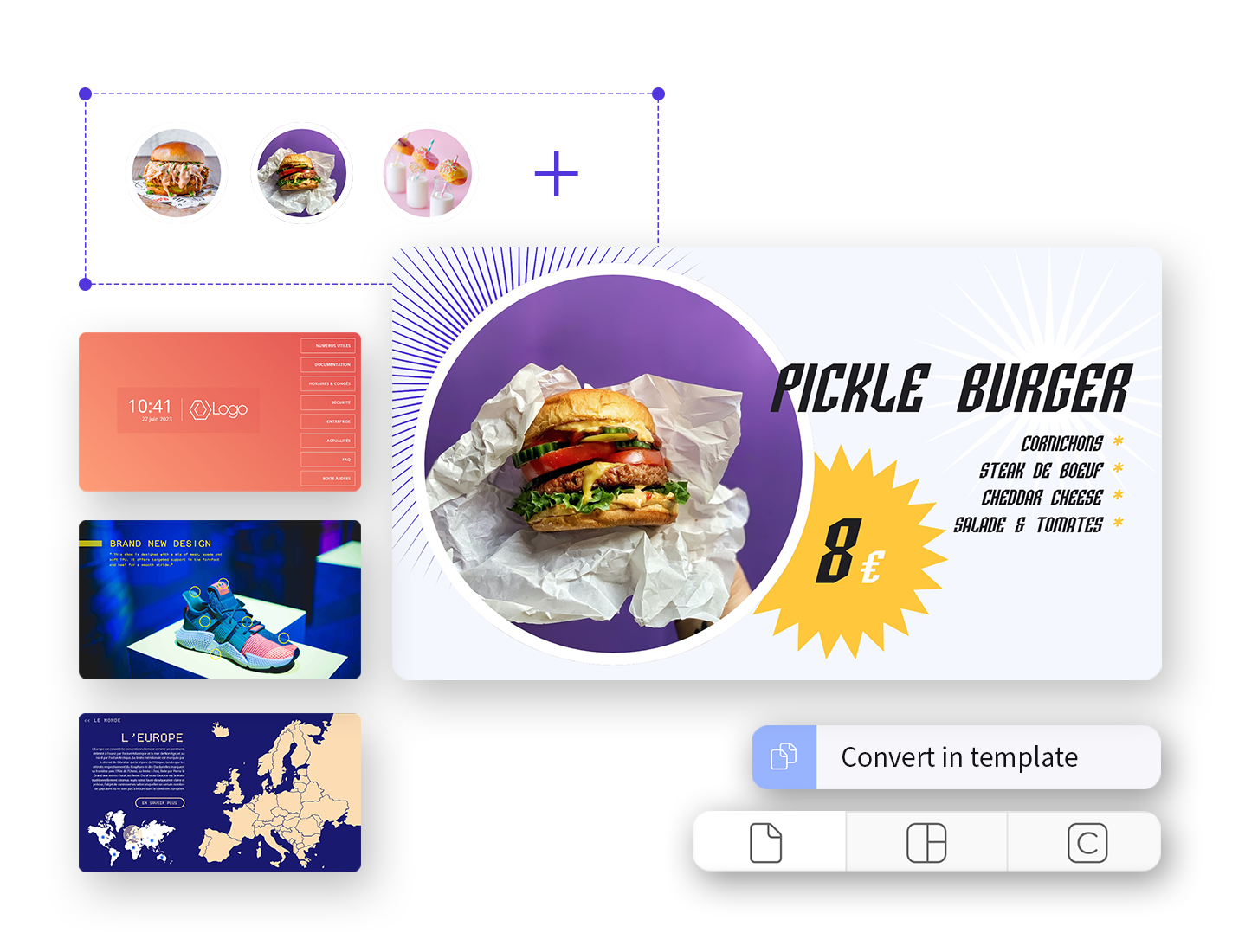 Plan and broadcast your communications
Whether for a single screen or for a more complex network, the digital signage software allows to centralize content playlists management.
Set the broadcast date, time and recurrence in a few clicks. Advanced options allow you to customize device groups or choose specific startup pages.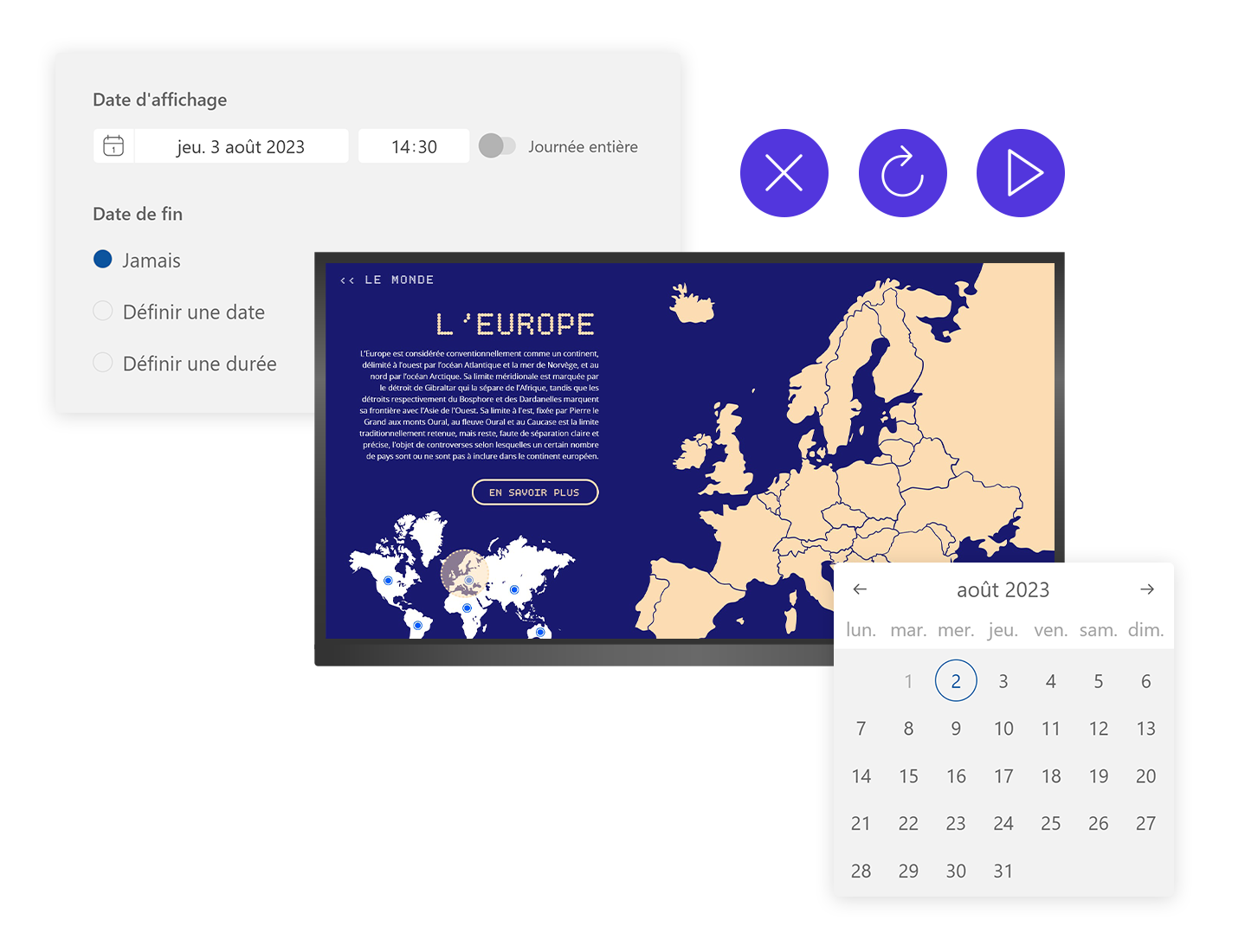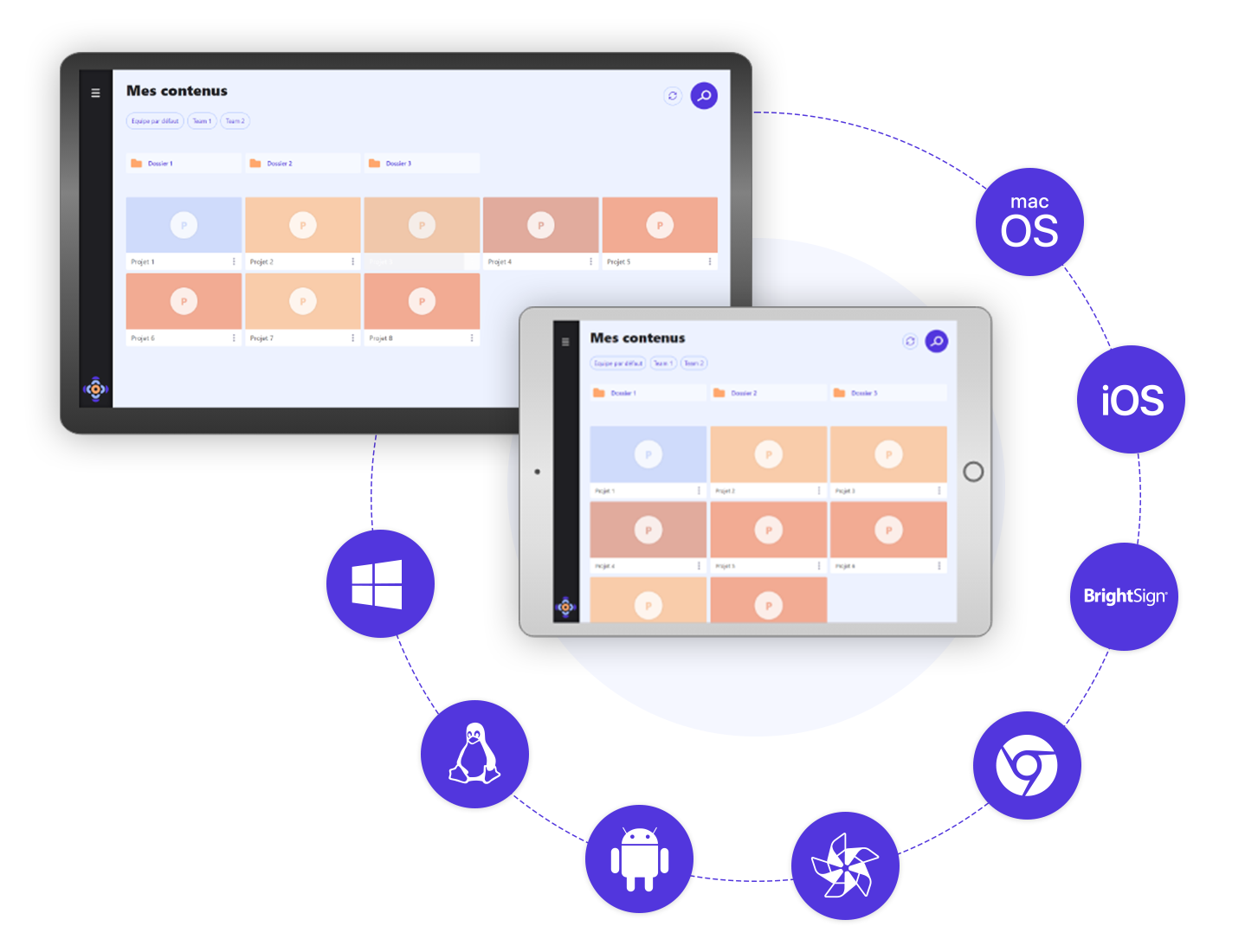 Choose your material without constraints
The app fit with the majority of operating systems on the market. Designing a new project or upgrading your hardware has never been so easier!
The operation is simple: the CMS generates a deployment key that allows you to associate your playlists with your digital screens.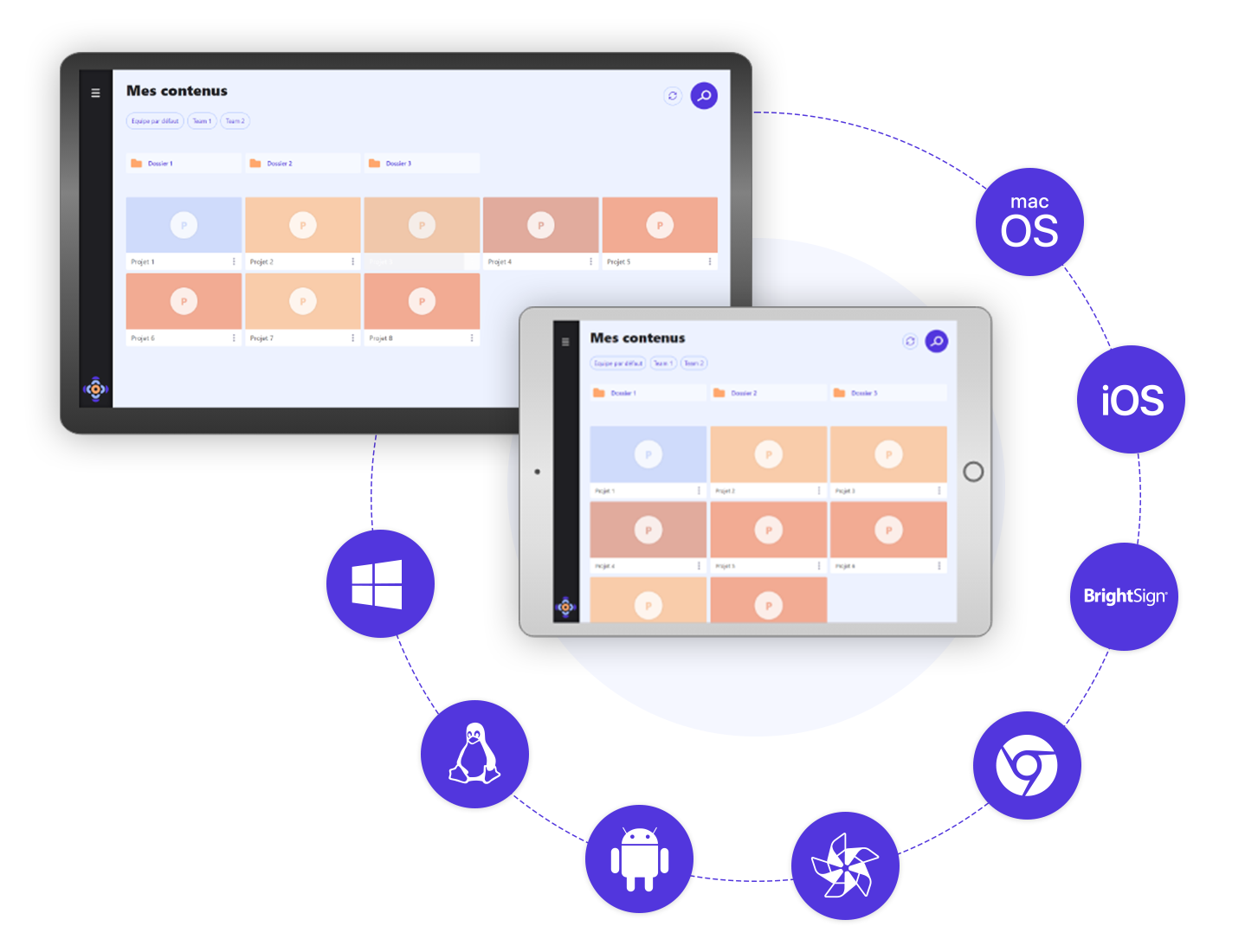 Key features of digital signage software
---
Creative studio
Create your own content directly in the studio, without using third-party software.
Playlist management
Program signage ranges and configure display recurrences.
Customizable components
Integrate APIs and connect to third-party tools.
Programmation
Customize display conditions and properties by screen or screen group.
Asset management
Create broadcast groups that fit with the most complex organizations.
Multilingual
Manage your content in multiple languages with ease.
Offline mode
Your digital screens operate even in the event of a momentary loss of connection.
Statistics
Get reports showing display ranges and broadcast times.
Interactive display
Switch to interactive display at any time, without constraints.
Frequently ask questions (FAQ)
---
?
Why is digital signage important?
Unlike traditional media, digital signage screens make it possible to multiply communications by organizing the broadcast on a reduced surface. In addition to the added image value for your business, digital screens naturally attract the attention of visitors and customers.

Product launch, new event, correction of a text... Digital screen updates become a breeze without moving from your desktop! If you have several screens on your premises, or if your company has several sites, it becomes easy to centralize the management of your digital content. Your communication becomes unified with considerable time savinges. Digital signage is a tool adopted by more and more professionals. How about you guys?
?
Why choose a cloud based digital signage software?
Unlike an «On-Premise» solution that requires a complex and expensive IT infrastructure to implement, a cloud-based digital signage solution does not require advanced technical skills.

The online digital signage software crosses borders: it is accessible from any device connected to the internet. A few minutes are enough to integrate your contents and broadcast your first playlist on any connected screen, whatever its position in the world.
?
How to buy your digital signage software?
Access to our cloud based digital signage software is possible through our network specialized distributors network. We can set up a software demonstration and put you in touch with one of our partners according to your geographical location.

You just have to send us a message describing the project of your company in a few words!
?
Do you offer a free version of your digital signage software?
For audiovisual professionals:
Do you want to build your customers' display projects with Touchify? Do you want to distribute our licenses? We offer you a Touchify business account. Discover our partner program.
For end-users:
We prioritize demos to discuss your specifications and advise you in a personalized way. These presentations are made by our teams and our partners network. If we do not offer online registration to access a trial version of our digital signage software, we may nevertheless create an account for you after our exchanges.
?
What material do I need to build my digital signage project?
In addition to the digital signage software to manage your content, you need a professional screen and a player. The player is the mini-computer that provides the interface between the content and the broadcast screen.

Our solution is not linked to a proprietary 'player' technology: you thus retain great freedom in the choice of equipment. Some devices, such as professional monitors, directly integrate this player Our distribution network can help you in choosing the right equipment.
?
Do you also sell hardware? (Screens, display terminals...)
No, our core business is to develop digital signage and interactive display solutions. We have chosen to collaborate with a network of partners specialized in audiovisual. These companies are able to offer complete display solutions, taking into account your business specificities.

In addition to display licenses, they can make you a proposal including equipment (screens, tablets, computers..., custom furniture prodution and also services (installation, training...) up to the realization of the content if you do not have the internal skills or you do not have time to devote to it.
?
Can you develop custom features?
As a digital signag software publisher on a human scale, we are able to adapt to the specific needs of our users.

In collaboration with our partners, we can offer you turnkey dynamic displays with tailor-made features for all types of businesses. Because that is also our mission, to evolve our offer with your needs and redefine the limits of display solutions to enhance your content.
?
What is no-code software?
No-code applies to solutions that do not require advanced computer skills, such as programming language, to use them.

No-code digital signage software allows you to create and deploy projects easily and quickly whatever your profile. For advanced users, it saves considerable time in development, testing and debugging and allows end users to simplify use.
?
How do I start my first display project?
We offer a knowledge base to start your first digital signage project. Our partners are also there to support you every step of the way. We can offer demonstrations and training. Our customizable templates is also a good point of start to your to be good to go.
Discover Touchify in 5 steps
---