Welcoming and managing visitors
Are you still using a paper visitor book to collect guest identities in your office? If it's yes, it is probably time to move to a digital visitor registration system to track people. If the most important purpose if to maintain the company's safety, the visitor register now offers in its digital version many additional features you can use to communicate more widely.
---
Benefits of digital visitor registration
Ensure safety
Ensure safety
If an unusual event occurs, the registration system allows you to check who was on the premises at that time. In case of building evacuation, it helps you to count the visitors at the assembly point.
The visitor register is also an effective prevention tool for workplaces. It's a way to communicate practical information and safety rules to follow on your site.
Make a great impression
Make a great impression
You know, you never get a second chance to make a good first impression! The establishment of a digital visitor registration system helps to provide a better experience.
Beyond its primary function, it can become a strategic communication medium for both practical and promotional purposes.
Simplify the reception and follow-up of visitors in your company
---
Entry and exit system tracking
The primary function of a company visitor register is simple: the objective is to keep visitor records (comings and goings).
For this, the process is to collect people details: the name of the host or possibly his service, the reason for the visit, the date and the times of entry and exit. On some sites, the vehicle registration number will sometimes be added. The fields are customizable according to your brand and your needs.
The application offers a pre-registration function. Authorized employees can fill in all information about the visitor to allow him to register with a single click upon arrival.
Entry and exit system tracking
Visitor arrival guest alert
As soon as your visitor registration is completed, or confirms his arrival in the case of a pre-registration, his host is automatically notified by email.

If you don't have a receptionist at your facility, the app helps you welcome your visitors.
Visitor arrival guest alert
Ensure safety at all levels
Digitizing the visitor registration helps ensure the safety of people. In addition to its obvious utility for counting people in case of evacuation, it also allows to communicate more widely on the safety rules in force on your site: traffic and parking, plan and access to the different zones, PPE, evacuation plan...

In the event of incidents such as an accident, a leak of information, access to an unauthorized area or any unusual event, you can confirm whether or not a visitor is present at the time.
Ensure safety at all levels
Communicate!
The visitor management app integrates with the Touchify interactive display software. You have the ability to customize your screen on all aspects, whether to adapt to your graphic charter or add all types of additional information or features.

During periods of inactivity, the screen can automatically switch to dynamic display mode to broadcast the content of your choice.
Communicate!
An interactive display solution for businesses
Touchify is a SaaS software that allows you to create, distribute and analyze all types of interactive digital signage content.
Découvrir le logiciel
---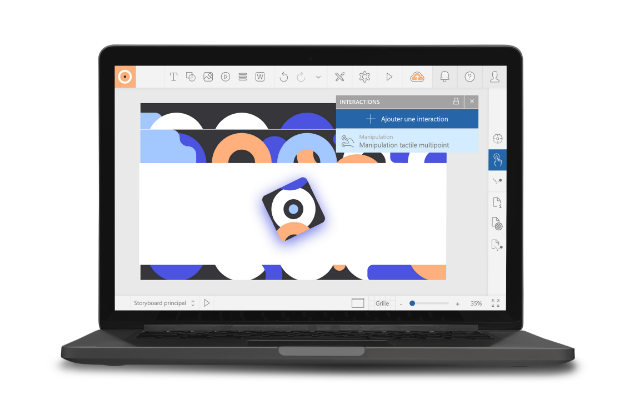 Customizable
Branding, field content, additional functions... Everything is possible (or almost!).
Secure kiosk
Secure your screen by locking access to the system and application settings.
Multilingual
Simplified multilingual management to translate your registry into multiple languages.
Remote access
A remote administration interface allows you to view and edit information.