Enhance your phygital strategy
Consumer expectations are changing. In the digital age we thought that the point of sale was no longer of interest. On the contrary, the point of sale remains a key step in the purchasing journey and in the relationship between a brand and its customer. Brands must offer a fluid and enriching customer experience with continuity between digital and physical worlds. Find out how Touchify helps you integrate digital solutions to master your communication.
---
Better meet consumer expectations
Consumer experience
Consumer experience
The modern consumer no longer wants to be sold a product, he wants to buy it. He wants to be an actor in his consumption, live an experience and share values with the brand. The physical point of sale must renew itself to offer an optimal customer experience and immerse consumers in their brand universe.
« A very intuitive and easy-to-use interactive experience that contributed to the success of the operation. »
Muriel, early Touchify user
Brand interaction
Brand interaction
The modern consumer expects an omnichannel shopping experience where they can interact with the brand at different steps of their shopping journey. He wants a quick and relevant answer to his questions. He wants to share and give his opinion. He wants to be heard and considered.
« Make something simple, memorable, fun to watch, and fun to read. »
Leo Burnett
Solutions to set up your phygital strategy in points of sale
---
Product Marketing
Use digital devices to promote your products. Touch screen terminals and touch pads make it possible to provide an enriched experience. Better inform the consumer about the product quality and offer an immersive experience. Interactive content allows the user to be an actor in his content consumption, to choose the information that interests him and to personalize his customer journey.
of consumers are more likely to buy a product if the content ecourages discovery.
Product Marketing
Information and guidance
Digital devices in a points of sale offers a privileged means of communication to inform and guide consumers during their customer journey. It is also a communication medium for your brand, to broadcast your ads, promote a product or highlight a promotional offer.
of people want to save time using digital point-of-sale devices.
Information and guidance
Street Marketing
Digital devices in the street or on store fronts allow you to start the digital experience before entering the store. They make it possible to attract more visitors by encouraging discovery and displaying promotional offers.
of consumers consider that a digital device encourages them to enter the store.
Street Marketing
Connected in-store salespeople
Your salespeople have a key role in the propagation of your messages and your offers. In contact with consumers, they are the primary guarantors of a successful customer relationship. Equipping salespeople with digital devices makes it possible to gain efficiency and respond quickly to customer requests.
of people think that a salesperson with a tablet will be able to provide them with a quick and relevant response.
Connected in-store salespeople
Why Touchify?
Touchify is a SaaS plateform that allows Marketing and Communication teams to produce interactive content, control their distribution and collect usage data. Touchify is an end-to-end solution for controlled and impactful communication.
Learn more
---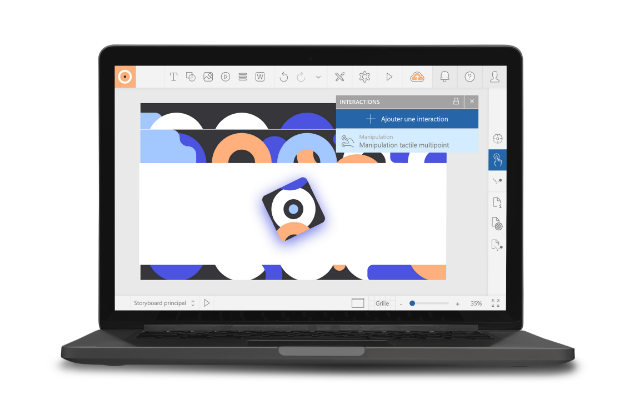 Secure kiosk
Secure your digital devices, lock access to the system and application settings.
Easy to deploy
Easily publish your updates. Content is immediatly available on your devices.
Usage data
Get statistics feedback on the performance of your campaigns.
Compatibility
The Touchify Player application is available on Windows, Linux, MacOS, iPadOS and Android.