Choose a better way to communicate
Touchify helps local authorities to better communicate using digital displays. Offer to public services officers an easy way to inform people in their area and promote the tourist offer.
---
The challenges of digital transformation
Effective communication
Effective communication
People want relevant, transparent and quick information. Local authorities are increasing the number of online touchpoints: website, applications, social media. The challenge is to extend this communication in public spaces and strategic places: town halls, schools, shopping streets or touristic sites.
Real time information
Real time information
Connected digital devices provide a way to communicate quickly and efficiently. This can be sharing an important announcement, a prefectural decree or environmental information such as air or water quality. In a few clicks, you communicate as close as possible to your target.

Expand your digital presence
---
Real time information
Digital solutions make it possible to inform the public in an efficient and personalized way. Multiply touchpoints to ensure maximum visibility of the information. Control the distribution of your content with updated information in real time.
Separate responsibilities with the management of access rights to offer all your services the possibility of broadcasting their messages.
Real time information
Promote your region
Promote the tourist offer, highlight local businesses, display the cultural agenda, special events, sports and leisure activities. Digital devices allow you to enhance your territory and support the local economy.
Promote your region
Improve the traveler experience
Relevant and localized information allows your visitors to optimize their stay and facilitate the discovery of your region. Location, nearby activities, touristic sites, shops and cultural offer. So much useful information for travelers to save time and take full advantage of your tourist offer.
Improve the traveler experience
Modernize public information displays
Simplify the management of public displays thanks to dematerialization. No more printing, moving and stacking displays on a limited panel size. You guarantee better access to information, a more qualitative display and the possibility of downloading your documents. Your digital display can also be replicated on your other devices or your website to increase its visibility.
Modernize public information displays
Why Touchify?
Touchify is a SaaS plateform that allows Communication and System Information teams to produce interactive content, control their distribution and collect usage data. Touchify is an end-to-end solution for controlled and impactful communication.
Learn more
---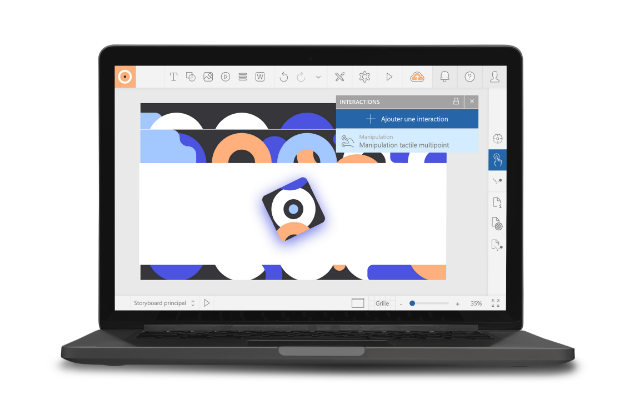 Easy to deploy
Easily publish your updates. Content is immediatly available on your devices.
Usage data
Get statistics feedback on the performance of your campaigns.
Access control
Give access to all your services thanks to customizable rights management.
Secure kiosk
Secure your digital devices, lock access to the system and application settings.