Make your stories interactive
Find out how Touchify allows you to create impactful communication campaigns. Get full control of your digital displays to share your stories.
---
Interactive content boosts engagement
Usual digital signages struggle to capture attention.
average attention
Interactive displays generate more engagement.
average attention
Offer an immersive and personalized experience
Traditional dynamic displays offer an impersonal experience. On the contrary, an interactive display will invite the user to interact. He becomes an actor of his experience and get more relevant information. He will be more involved and receptive to your messages.
of consumers say they are more likely to buy a product if the content encourages discovery.
Offer an immersive and personalized experience
Bring your stories to life to generate engagement
Digital displays are now a part of everyday life whether in public places, stores or workplaces. To captivate your audience, it is necessary to offer qualitative content that meets users' expectations.

Touchify offers great freedom to create immersive communication media to promote your products, your services and your brand, on all your devices.
of people are more likely to share an interactive digital experience.
Bring your stories to life to generate engagement
Create impactful content
Share your stories to create a strong emotional bond with your audience. An involved user will have a positive image of the brand and will be happy to share his experience. Touchify allows you to create a wide variety of content to differentiate you from the competition.
According to a study published by Nielsen, the use of digital devices during a campaign generates an increase in sales of 8% on average.
Create impactful content
Control your devices
Control your devices
Touchify Publisher offers a full control to distribute your content on your devices regardless of their number and location.
« With a simple mouse you will get anything you want. »
Les Deschiens, Visionnaires, 1996
Measure performance
Measure performance
Touchify Analytics provides your with feedback to understand your users, improve your content and better meet their expectations.
« Data is key in customer relations, but also in commercial efficiency. »
Julien Lechat, e-Acquisitions director at Air France
Why Touchify?
Touchify is a SaaS plateform that allows Marketing and Design teams to produce interactive content, control their distribution and collect usage data. Touchify is an end-to-end solution for controlled and impactful communication.
Learn more
---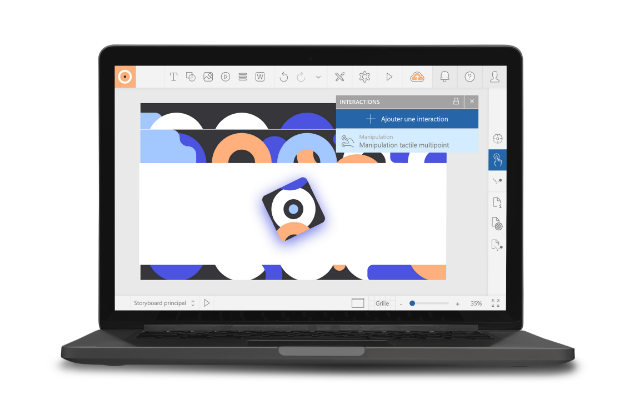 Secure kiosk
Secure your digital devices, lock access to the system and application settings.
Easy to deploy
Easily publish your updates. Content is immediatly available on your devices.
Usage data
Get statistics feedback on the performance of your campaigns.
Compatibility
The Touchify Player application is available on Windows, Linux, MacOS, iPadOS and Android.