Create immersive digital experiences in points of sale
Find out how Touchify helps you to expand your digital presence in stores, providing continuity of the customer journey in an omnichannel strategy.
---
Extend your digital brand universe to stores
The relationship between consumers and brands is changing.

Today, we expect to live experiences and share values. Touchify allows you to produce innovative content to promote your products and your brand. Simply create immersive customer experiences to engage the consumer in your universe.
of consumers say that digital in-store services encourage them to shop.
Extend your digital brand universe to stores
Personalize the customer journey
The modern consumer no longer wants to be sold a product, he wants to buy it.
Interactive content gives him more freedom to go to the information that interests him. This allows to better meet its expectations. Becoming an actor in its purchasing experience, he is able to personalize its customer journey.
of consumers prefer to be independent in the purchasing process rather than call on a salesperson.
Personalize the customer journey
Be creative, be different
Create the content that suits you. Touchify Studio offers great freedom to create interactive and dynamic content. No technical skills are required, unleash your creativity to tell your stories and involve the consumer while offering a differentiating experience.
of consumers are more likely to buy a product if the content encourages discovery.
Be creative, be different
Optimize your campaigns
Using Touchify Analytics your get a feedback to measure the performance of your campaigns. Analyze usage data to better understand consumers behavior, better meet their expectations and improve the relevance of your speech.
Touchify offers great flexibility to iterate. Easily update your content on your various digital devices, regardless of their number and geographic location.
« Without knowledge of its audience, and without solid preliminary assumptions, Big Data is useless. »
Benjamin Mercier, Digital Analytics
Optimize your campaigns
Why Touchify?
Touchify is a SaaS platform that allows Marketing and Design teams to produce interactive content, control their distribution and collect usage data. Touchify is an end-to-end solution for controlled and impactful communication.
Learn more
---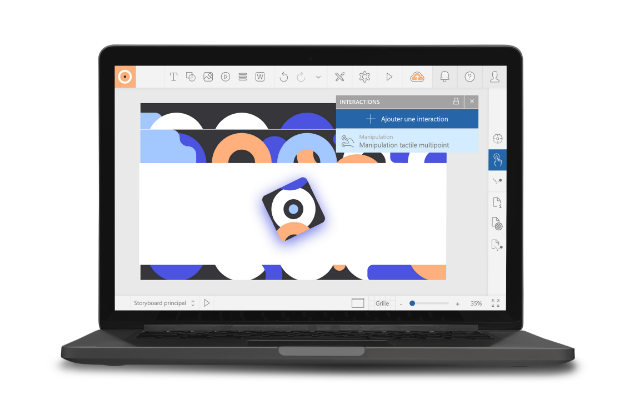 Secure kiosk
Secure your digital devices, lock access to the system and application settings.
Easy to deploy
Easily publish your updates. Content is immediatly available on your devices.
Usage data
Get statistics feedback on the performance of your campaigns.
Compatibility
The Touchify Player application is available on Windows, Linux, MacOS, iPadOS and Android.
Expand your digital presence
---