Deliver a digitalized visitor experience with interactive digital signage
Interactive digital signage technology allows you to create engaging and memorable exhibits for any kind of cultural place: museums, art galleries, historical monuments...
The implementation of touchscreen devices helps you to create unique immersive experiences for a new way of looking at culture. In addition to offering interactive museum visit to your audience, digital signage solution are suitable to welcome and guide visitors.
---
The benefits of interactive digital signage in museums and cultural sites
A new way to access culture
A new way to access culture
Digital exhibits design make culture more attractive and accessible. Thanks to images, videos, animations and all kinds of interactive elements, kiosks and touch screen devices help to capture people attention and encourage an active learning.
Enrich museum exhibits
Enrich museum exhibits
What could be more boring than a traditional billboard filled full of text? Digital display brings content to life for an enhanced user experience. By offering multiple options on a single touchscreen, you have the ability to create custom experiences depending on the audience.
How to use interactive displays in your museum?
---
Receive visitors
From the entrance, it allows to communicate about ticket prices, schedules, inform on the possibilities of guided tours, the agenda of the exhibitions.

Digital signage makes it possible to welcome visitors and guide them, whether on outdoor spaces, parking areas or different exhibition venues. It also allows you to promote your upcoming exhibits, temporary collection or any one-off events on your site.

During peak traffic, it allows to canalize the waiting and to make the visitors wait by starting to make them want and project themselves in the visit.
Receive visitors
Inform and create visitor experiences
Digital signage is a communication tool at the service of museography: it allows to inform in a more playful way by indicating a historical context, the history of the protagonists...
Historical context, story of the protagonists, artworks description... Digital signage is a technology that allows to inform in a hightly playful way and compilate a large quantity of information on a single support.

In order to go further, interactive displays involve the visitors to discover the history of an artwork or a monument. It is possible to create several levels of reading according to the age or the profile in order to create tours adapted to the expectations of each person. It is also possible to integrate games
Whether it is placed on a totem, on a table, on a wall... The display is easy to set up and adapts to all configurations.
Inform and create visitor experiences
Navigation
Map of the museum, direction of visit, fire alarms... Digital signage allows you to manage a large number of visitors and guide them throughout their visit, even in an emergency.
Navigation
Why Touchify?
Touchify is a SaaS display software that allows museums to create interactive and dynamic content, disseminate it, update it and collect usage data.
Learn more
---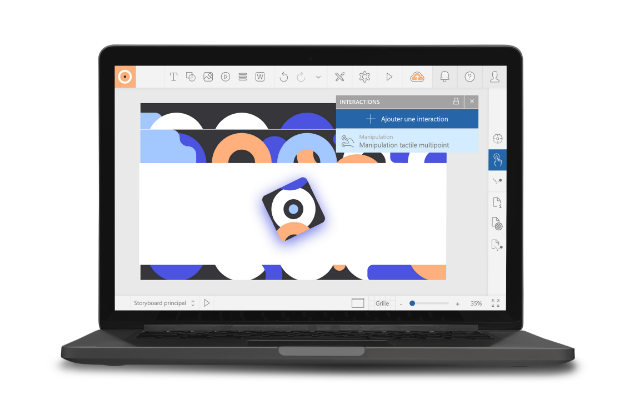 Multilingue
Simplified multilingual management to allow you to display your content in several languages.
Secure kiosk
Secure your digital devices, lock access to the system and application settings.
Easy to deploy
Easily publish your updates. Content is immediatly available on your devices.
Usage dat
Get statistics feedback on the performance of your campaigns.