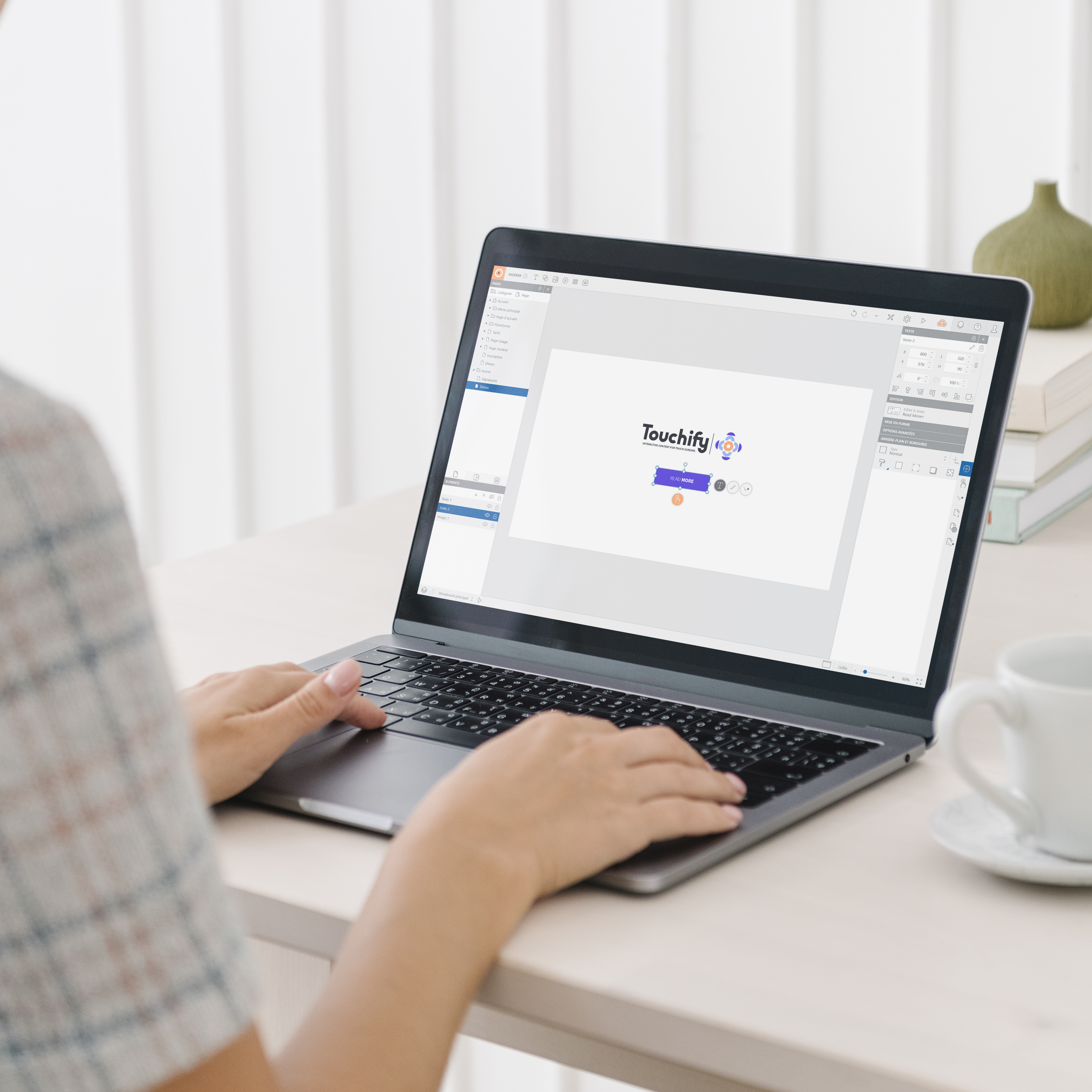 You are determined to invest in digital signage software to animate your point of sale or improve your internal communication in 2023! But when comes time to choose, you are a bit lost... So what are the characteristics to take into account to choose the right solution?

In this post, we explain the points to consider when choosing a digital signage software that will meet your needs. Be prepared to make it a unique tool in your communication strategy!
What are the differences between SaaS digital signage software and an on-premise solution?
There are mainly two technical architectures on the market: 'On-premise' digital signage solutions and 'SaaS' digital signage solutions.
As its name suggests, the first is a solution that must be hosted on site, that is, in your company. One of the main advantages is that it allows for more autonomy in terms of conditions of use. The counterpart is that it requires heavier investments in terms of hardware, server maintenance but also implementation.
The other alternative is the 'SaaS' solution, also called the 'Cloud' solution. It is hosted remotely and easily accessible via your web browser. The advantage? Some flexibility by offering a quick implementation through a monthly or annual subscription.
It is part of the no-code family of solutions: you focus on messages and creative aspects without the need for technical development skills.
A wide range of solutions, from the simplest to the most advanced with integrated design studio
In marketing, it is often said that content is king. If creating content is essential to engaging your audience, digital signage is no exception!

While the simplest solutions are ultimately limited to organizing your different media (powerpoint, PDF files, images, videos...) in the form of playlists, the most advanced platforms offer you to create real interactive experiences.

They integrate touch management and can even offer a creative studio. These solutions will help you to limit the use of third-party solutions like Photoshop, Canva... and to be able to create most of your displays in a single tool.
Screens and operating systems compatibility
16/9 dynamic display screen, stretch display, interactive terminal, touch table, projected display... Whatever your needs, make sure to select a platform compatible with the maximum number of operating systems: Android, Windows, Linux, Tizen...

Some screens integrate directly an operating system. This is especially the case for Samsung SSSP-compatible screens (Tizen) or the many manufacturers offering screens integrating Android.

Otherwise, the screen must be connected to a computer: mini Windows or Linux PCs, Android TV box, Chrome Box, BrightSign player, etc.
Pay attention to the resolution!
Depending on the devices, the display resolution, and therefore the creation of your project, will be different. Increasingly innovative screens with specific display formats are appearing on the market. It is therefore important to check that the digital signage solution chosen does not impose a limit.

Indeed, if your editor offers you only a project on a standard 16/9 format in 1920 x 1080 pixels, how to share your project on an ipad 2 that offers a format in 2 732 x 2 048 without distorting your creation? Whatever the size of the screens, the digital signage software must adapt to avoid wasting time on design and having to adapt your presentation.
Remote deployment
In the most complex configurations (network of banners, food chains, companies with multiple subsidiaries in the world...), it is also necessary to check if the software allows to deploy presentations anywhere, at any time, in one click, and by any user, and especially with what ease.

The advantage of a SaaS solution is that it allows you to simply deploy a presentation in real time by first installing a player on the hardware and associating it with the broadcast group using a code.
Broadcasts programmation
Recurrence, periodicity, .... In order to simplify the management of your communications, you should also take an interest in the planning tools proposed to define the broadcast dates of your displays, the time slots, whatever your broadcast groups or screens. You can define your playlists.
Screen park management
Who says multi-site companies or marketing services of large groups says multiple communications on a park sometimes very heterogeneous. The advantage of a SaaS digital signage solution is that it allows you to simply deploy a presentation by installing a player on the hardware and associating it with the distribution group using a code.

You can also organize your park with broadcast groups and set display conditions to target a specific group.
Type of multimedia content
Images, videos, powerpoint, .... Depending on your objectives, check the type of media content accepted by the display solution, and the associated connections. Beyond multimedia content, also think about integrating your social networks or some rss feeds.
Interactions and animations management
If you just want to release a playlist of documents, you can take a solution with basic features. But if you want to optimize the customer experience and bring dynamism to your speech, be interested in the interactions and animations proposed by your supplier. It can be transitions between elements, animations to call to action see to go further by creating a real synopsis.
Free or paid digital signage software?
The question that closes a lot of topics: how much does it cost? What is the cost of a digital signage solution? It all depends on your need. Many digital signage software offers a free version to test the platform with basic features.

Apart from the cost of the material, a subscription starts at around twenty euros per month for access to the creation platform and the broadcast on a screen. These subscriptions can be up to 50 euros per month for the most advanced solutions, depending on your needs, and even more than 100 euros for some publishers.

These rates are degressive, and the more screens you have, the lower the cost. Some elements that can influence the cost: dynamic and interactive display (tactile), external data management, customizations, support...
Maintaining my company digital signage software
If you don't have the resources internally, that's not an issue. The SaaS dynamic display solution avoids any type of hardware maintenance. Conversely, the on-site solution will probably require maintenance on the servers.

Beyond the hardware aspects, consider the ease of updating the solution for users in charge of updates. The solutions developed in the spirit of no-code make updates accessible to the most novice.
Secure kiosk
You want to use your presentations on a totem pole positioned in a public place? The kiosk mode allows you to lock the presentation to prevent users from browsing the internet or changing your presentation settings. In addition, the kiosk mode makes it possible to simplify the use with an automatic start of the machine on presentation, without human intervention.
Offline mode
Whether you use a SaaS solution with remote servers, or an on-allowed solution, make sure your editor is able to manage an offline mode so that your data is always accessible.
What about data security?
While it can be stressful to outsource data management to a third-party company, the risks are not higher than when you manage IT security internally. Indeed, SaaS digital signage solution publishers are calling on companies whose data security is at the heart of their mission. To reassure you, you can ask your supplier about the storage provider, the platform, the place where the data is stored...

Some more technical points to validate: authentication, data encryption, data duplication, verification and monitoring, GDPR... As many topics as you can discuss with your SaaS provider to ensure that your data will be safe and that the chosen solution offers guarantees of reliability. In this regard, also check the number of GB of storage that your editor offers.
Digital Signage Software Training
Online help, tutorials, training provided by the publisher, distribution networks, technical support.... So many elements to consider depending on your ease on this type of tool to choose your digital signage solution.
The goal? Never find yourself alone in the face of a problem and get a real support to make the most of this communication tool.
The future of digital signage: Smart Signage
Initially, the purpose of digital signage was to broadcast content on a screen. The solutions often consisted of an interface to organize elements in playlists. Digital signage is now becoming increasingly interactive with solutions that also offer interactive tactile displays and are now moving towards smart signage.

Smart signage is what the smartphone on the phone is. Combine the basic need with advanced features to change the user experience and optimize operations. So we start to be able to connect databases and become a powerful communication tool. Analytical reporting, dashboards... Analyze your customers' journey.
At the end, what is the best digital signage software?
So verdict? We could talk about our solution, but in the end, the best software is ultimately the one that meets your specifications in terms of functionality, skills, budget...

The trend, however, is clearly to SaaS solutions that stand out in front of the historical players because of their ease of handling, implementation and solidity at the technical base.
Vous avez aimé cet article ? Partagez-le !