Transform your communication
In the digital age, banks and insurance companies must innovate and differentiate themselves. Find out how digital signage solutions helps you set up effective communication for your customers and employees. Understand their expectations to deliver relevant messages.
---
Personalize your sales pitch
Touchify allows you to create innovative and effective sales support for your sales team. Interactive content make it easy to interact with your customers and allows to personalize the speech and be more reactive during a customer meeting.
Get control of your sales pitch by centralizing the production and the distribution of your business presentation. Ensure the consistency of your speech and the quality of your content to control your brand image.
« In the 1980s, we looked for a client in every individual. Today, we must find the individual in every customer. »
Boris Durisin
Personalize your sales pitch
Connect your employees
Your employees have a key role in the dissemination of your messages and offers. Customers are sensitive to new digital tools and interactive screens. Offer innovative sales supports to ensure a coherent speech and strong buy-in from your customers.
of people think that a salesperson with a tablet will be able to provide them with a quick and relevant response.
Connect your employees
Improve communication in financial institution
Innovation are at the heart of the challenges to meet consumer expectations. Your bank branches must offer an optimal customer experience, in particular through the use of digital devices. For example, reception kiosks make it possible to welcome customers and offer them the opportunity to browse your offers during their waiting time.
of people want to save time using digital point-of-sale devices and quickly find relevant information.
Improve communication in financial institution
A secured platform
In the banking and insurance sector, innovation cannot be thought of without security. The Touchify platform implements high security standards to meet the expectations of large companies. The digitally signed applications can be configured to meet the security criteria of your information system. The platform is GDPR compliant.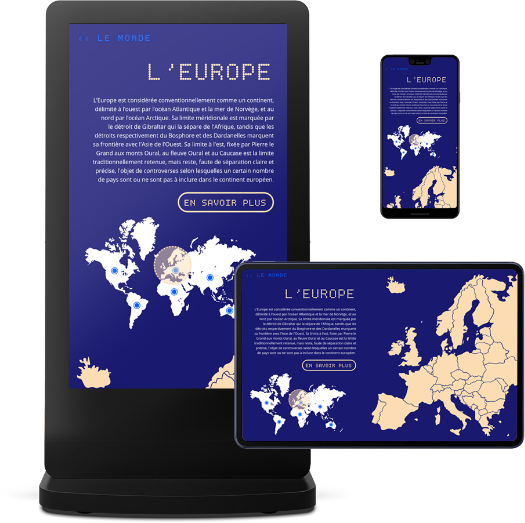 A secured platform
Master your communication
Control your devices
Control your devices
Touchify Publisher offers a full control to distribute your content on your devices regardless of their number and location.
Analyze your data
Analyze your data
Touchify Analytics provides your with feedback to understand your users, improve your content and better meet their expectations.
Why Touchify?
Touchify is a SaaS plateform that allows Marketing and Sales teams to produce interactive content, control their distribution and collect usage data. Touchify is an end-to-end solution for controlled and impactful communication.
Learn more
---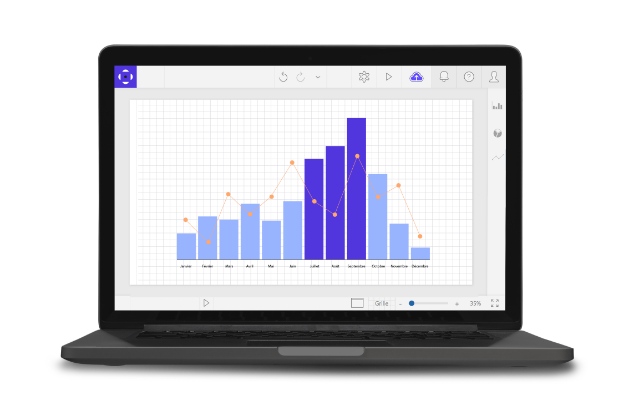 Offline mode
Your content remains accessible without an Internet connection.
Easy to deploy
Easily publish your updates. Content is immediatly available on your devices.
Usage data
Get statistics feedback on the performance of your campaigns.
Compatibility
The Touchify Player application is available on Windows, Linux, MacOS, iPadOS and Android.