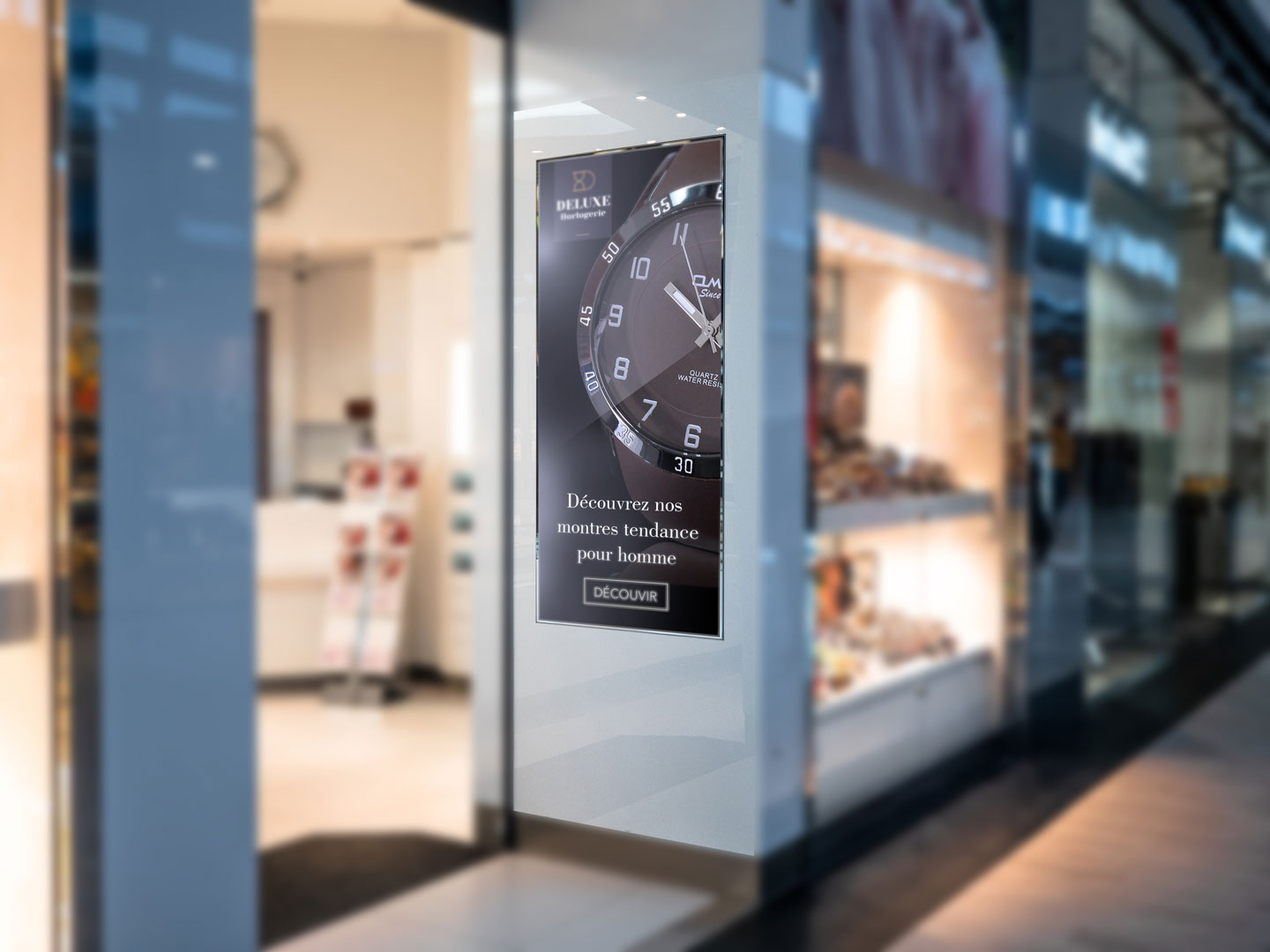 What is digital signage?

As a unique communication tool, digital signage is increasingly being used to connect with the public in places as diverse as stores, administrations, banks, restaurants, museums, airports and businesses.

It is used to disseminate a variety of information: advertising, technical or pricing information about products, event-related information, and much more.
How does digital signage work?  
As a successor to traditional printed communication media, digital signage works on the basis of a management interface allowing structured content to be sent on a screen via a playback «player». It combines texts, images, animations and different types of media to create experiences. This content can often be controlled and programmed remotely, from anywhere, at any time, whether for a digital signage project in Paris, London or New York.
How to create a digital display?
To create a digital display, you must have creative tools (such as Canva, Photoshop or After Effects), a digital display software, a player and a display (screen, terminal, tablet...). The design tools will allow you to create your content. Some solutions offer a design studio directly integrated with the digital signage studio to give you peace of mind and save time.
You will then have to choose between the two main families of the digital signage market: the SaaS solutions hosted on the provider's servers, and on-premise solutions to be installed at home with the help of your IT department.
What type of content is displayed on my interactive screen?
All types of multimedia content are possible: videos, PDF documents, RSS feeds, external databases, texts and images, embedded animations, etc.
Why moving to digital signage? Benefits
A digital signage system offers many advantages over traditional signage. It allows digital content to be communicated in real time to a targeted audience through interactivity and dynamism while benefiting from instant updates. It also allows companies to personalize their messages and increase their visibility.
The use of digital signage software offers many advantages for delivering digital content in real time.
In general, it will help capture the attention of your audience and differentiate you from your competitors. In the case of a shop for instance, it can allow you to increase the average cart but also to recover data in real time. In the case of a museum, it will enrich the visitor experience. In the case of an enterprise digital signage project, it can generate internal engagement.
Which screen to use for your digital signage project?
TV, screen with embedded computer, display cabinet, totem, tablet, ... When choosing your digital display screen, it is important to take into account some criteria such as size, resolution, brightness, image quality, response time... but also accessibility for people with reduced mobility for instance.
Size and resolution are important factors in determining image quality. Brightness is also an important criteria because it determines the readability of the display. Finally, the response time must be short enough to avoid flickering effects for example.
To go further in digital signage, also think about interactivity if you want to involve the listener in the experience and consider touch screens: reactivity, multi-point...
What is the price of a digital signage solution?
The overall cost of a digital display depends on several factors, such as the size and number of screens, the number of users, the choice of SaaS or on-Premise mode. Dynamic displays can cost from hundreds to thousands of euros.
Digital signage, interactive signage and smart signage
There are more and more 3 types of displays:
Dynamic Display, a historical display that displays content and organizes it into playlists.
The interactive display that integrates the notion of exchange with the audience and often this interactivity goes through the touch.
Finally, smart signage that integrates opening on external APIs, data analysis, ....
Concrete examples of digital signage
This list is not exhaustive but gives you an idea of the benefits of a digital signage solution for all business sectors:
Companies: reception point, corporate culture, internet communication tool
Retail: display window, improve customer experience, brand image, introduce new products, place of sale advertising
Real estate: presentation of properties for sale
Town hall: legal signage, reception halls
Car dealerships: presentation terminals and configurator, communication on passing places
Catering: menuboard, menu display, controls
Point of Sale Marketing
Management of screen parks without geographical constraints
Consumer communication
Advertising boards
Digital signage for the hotel industry
What is the best dynamic software?
Free or paid digital signage? Interactive touch-based signage? On-Allowed or SaaS solutions? So many things to consider.

Digital signage is a powerful marketing tool that can be used to communicate information to your customers and your audience. There are many software on the market that can be used to create attractive and interactive presentations for your audience.

Choosing the right software is important to your digital signage success. The important thing is to find the solution that meets your needs.
Vous avez aimé cet article ? Partagez-le !