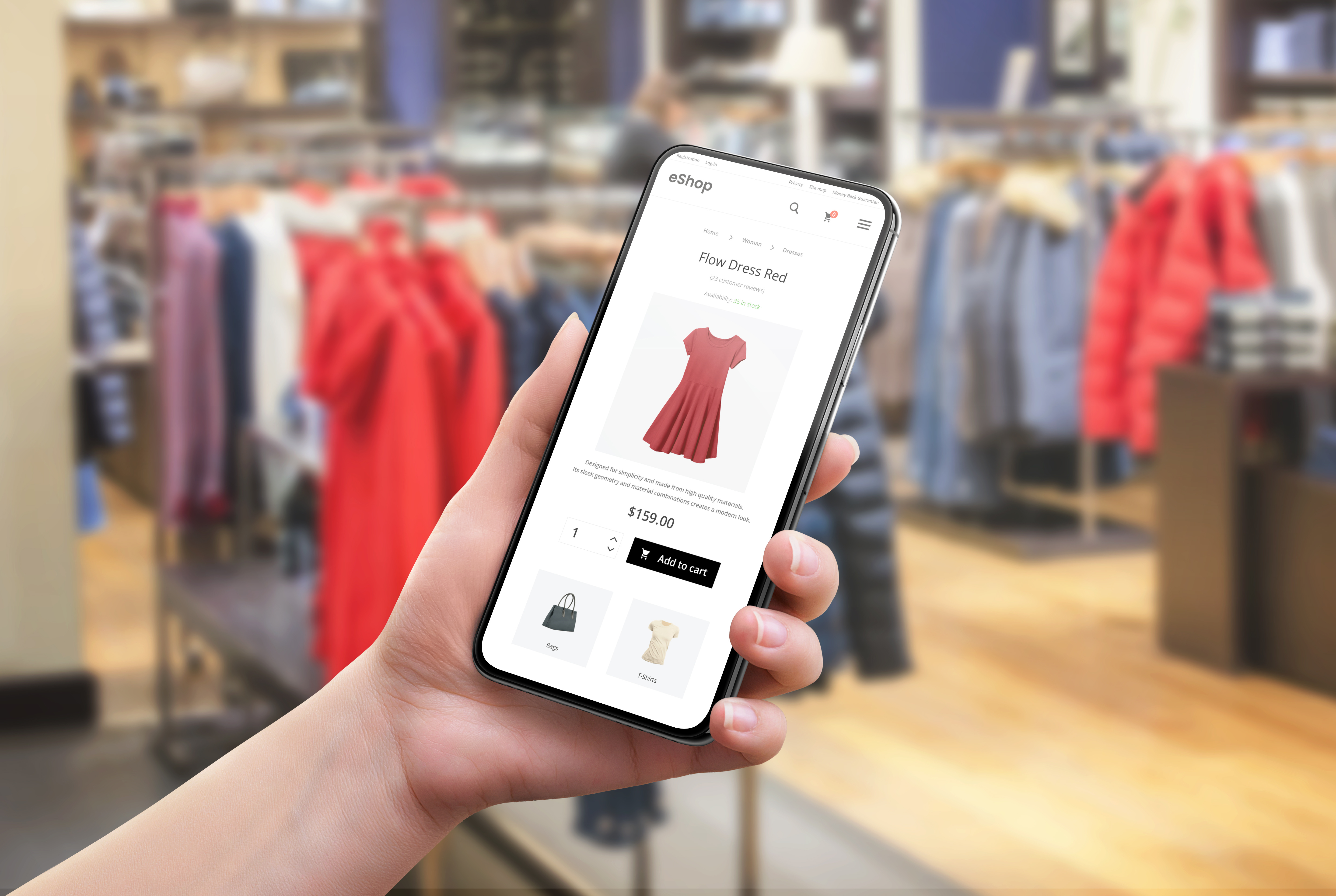 In this article, we shed light on «Showrooming», this buying behavior that many of us have adopted, sometimes for years, while ignoring its name.
The «Showrooming» in a few words
Showrooming is a buying behaviour that has become systematic for some consumers. The starting point? Go to a physical point of sale to discover a product in detail to validate your intention to buy, or be attracted by a product at random from a visit.
What's next? Once the product(s) targeted (s), it is mobile phone in hand that the consumer will decide to buy or not the desired product in the store. With his smartphone, he will start looking for information that he lacks to validate his choice: customer reviews, availability, options, variants, technical characteristics...
But if everything is reviewed, it is often the price that becomes the trigger of the act of purchase. Because this is the whole goal of many «showroomers»: to make sure that they are facing the most competitive offer and that it does not exist better online.
The scope of «showrooming»? Difficult to say precisely, but a study conducted by OpinionWay however highlights that one in two French people say they use their mobile in-store for at least one action related to their purchase journey.
Conversely, do you know webrooming or RoPo? This trend consists of locating products on the internet in order to obtain information and then go to the store to proceed to purchase.
4 reasons that encourage the consumer to practice «Showrooming»
Depending on the situation in which the consumer is - product identified before his visit to the point of sale or product directly discovered in store - the objective of «showrooming» can be different.
1 - Find the best price
We have already mentioned it but it is often the number one objective of «showrooming»: to benefit from the best offer. For this, consumers compare the prices charged in physical stores with those displayed on e-commerce sites. If they find a better offer online, they often decide to place an order.
2 - Have the product as soon as possible
When a customer visits a store, he is necessarily disappointed if he finds that the product he covets is not available. In this case, the «showrooming» allows him to search online and order it immediately on a site where it is available. Sometimes, he will also simply check the stocks of nearby stores before going to another brand to make his purchase.
3 - Get Home Delivery
Consumers appreciate receiving their purchases directly at home, without having to travel, wait at the checkout or carry products that are sometimes heavy or bulky and may require the rental of a suitable vehicle. When they practice «showrooming», consumers will compare the services that make their life easier such as delivery or installation at home and the associated modalities.
4 - Consider alternative products
With a growing trend to reduce sales space, it is common for some outlets to have a limited choice of references. The «showrooming» allows the consumer to locate a product in store before performing online searches to discover other variants potentially more adapted to these needs or wishes: additional features, options, colors...
«Showrooming», an opportunity for physical stores
Of course, the practice of «showrooming» puts stores with a store on the street in direct competition with online shops. But it also offers an opportunity for the traditional trader to increase his sales thanks to the traffic he generates in his store. Because it is a golden traffic that comes to him: qualified customers who are in an advanced or final stage of their purchase reflection. It is therefore up to him to retain them and demonstrate its added value to divert the «showroomer» from the internet.
And if for the French consumer, the store remains his preferred buying channel because it allows him to touch and try the products, we must probably keep in mind the three things that annoy him especially during his shopping: according to a study Mood Media, consumers cite waiting time, a hectic atmosphere and the absence of a product or size. It is up to the trader to find a strategy to erase these defects.
1 - Countering the price race through service
We could of course talk about price, but it is probably not on this point that the physical store must differentiate itself, especially because its structural costs do not always allow it to fight on a level playing field against online sales. Of course, it is always possible to offer promotions or sometimes to commit to refund the difference, under conditions, if the customer finds cheaper.
In the end, the differentiator is often at the service level: consideration and analysis of the need, advice, exchanges and free returns, recovery of old products... The retailer must go to a field where online sales cannot position themselves and that justifies paying more in store. Thus, by selling not a product but a set of services, the store can make the difference.
2 - The human, the store's best ally
We were all annoyed one day by sellers who barely walked in the door to ask us if they can inform us before we even had time to discover the products. But customers appreciate the personal contact with a seller as long as they add value to the purchasing process and are part of a more global experience.
Technical or behavioral skills, listening, building a relationship with the customer, the time spent, the desire to find the best solution for his client, the personalization of the service... All of which can make a difference. By focusing on building a sustainable customer relationship and training your salespeople, you will reverse the trend. Remember that any sale is also a matter of trust to move from a transactional model to a much more powerful relational sales model over time.
3 - Offer exclusive benefits
By offering specific benefits for in-store purchases, such as exclusive promotional offers, loyalty programs, events or entertainment, merchants can make the difference and detonate customers «showrooming»
You can offer exclusive products, at least temporarily, only available in your store. This is the case of Swatch which recently made the buzz with MoonSwatch watches, available only in the physical stores of the brand. Similarly, many analyses show that an average customer is always willing to pay more for an authentic or local product and for a recognized brand. Make sure that your offer is not comparable with e-commerce and become unique.
4 - Integrate digital into your sales journey
To divert customers from the «showrooming», the integration of digital tools in the purchase journey of your customers allows you to regain control of the messages. For example, you can install interactive kiosks in strategic locations in your store. We propose 3 innovative complementary ideas:
The personalized mobile application: browse a catalog of products, compare features, receive personalized recommendations according to his purchase preferences or profile, read user feedback...
Augmented reality: to virtually try products (clothing, jewelry, makeup...) with a disconcerting ease, especially in situations that do not allow to try, and save time.
NFC tags and QR Codes: integrated into your products they provide detailed information or explanatory videos to consumers.
5 - A smooth purchasing process
Long queues at checkout, unavailable sellers, waiting times and unattainable windows are all good reasons for the customer to finally choose the comfort of buying online! Relying on stand-alone checkouts simplifies the purchasing process, as do sellers with tablets who can now inform, check inventory and sometimes even manage payments.
6 - Omnichannel
Because the boundaries between stores and websites are always thinner - this is what we call omnichannel, think global experience and keep control of the customer through the different communication media.

Today, consumers must be able to mature their purchasing process by moving from physical to digital, regardless of location and medium, in a fluid and easy experience.
Vous avez aimé cet article ? Partagez-le !